July 25, 2022
Forest Bluff Residents,
Starting soon Spectrum AM will begin to send notices to properties that are not in compliance with Forest Bluff deed requirements.
To help residents get their properties in their best condition, the HOA will provide a dumpster for large bulk items that normal trash services will not haul.
Starting Monday, July 25th through Monday, August 8th, residents can take such bulk items (furniture, etc.) to the dumpster located at the west end of Mimebark Way (corner of Mimebark and Vasey).  Attached to this e-mail you will find a list of items tha t can be discarded in the dumpster.
We will provide this service again at the end of August, so if you're unable to get all of your bulk trash together by August 8th, you will have an additional opportunity starting Monday, August 22nd.
We hope this service helps you dispose of items you did not know what to do with
Regards,
Forest Bluff Residential
Board of Directors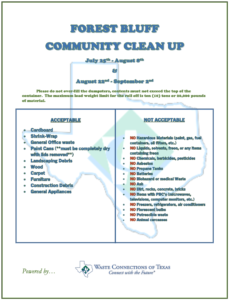 June 2022
IMPORTANT UPDATE FROM YOUR BOARD OF DIRECTORS:
As of today (06/01/22), our community is now managed by SpectrumAM!
Over the next couple of weeks, we will work to update all contact information across this site to ensure that you have the tools you need.
Please be on the look out for official documentation from SpectrumAM (not the cable company) via US mail, email, etc.